What about using your other senses to smell your something blue instead of just seeing it? Below are a few of my pics for the perfect fragrance on your big day that can also double to check off your something blue. Read the summaries for a brief description of these scents and see which one you would want to embody on your big day!
Oscar de la Renta Something Blue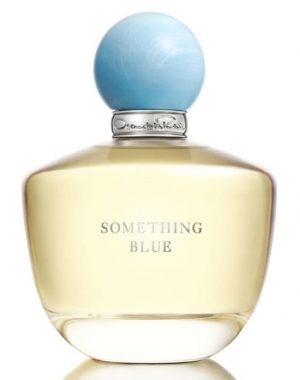 "Inspired by life's most magical moments, this romantic fragrance opens with a sparkling burst of mandarin and linden blossom and warms to an irresistibly sultry finish with notes of bourbon vanilla and white musk. A removable ring engraved with the designer's signature logo is a symbol of Mr. de la Renta's abiding devotion to his beloved clientele."
Calvin Klein Eternity Aqua
"Eternity Aqua is inspired by refreshing femininity with an effortless elegance. It has a modern and natural style with an easy approach to life and love. Featuring a sensual and uplifting scent reminiscent of a clean, crisp ocean breeze, this fragrance is meant for the smoothly stylish woman, with sophistication, confidence, and sexiness. "
Dolce & Gabbana Light Blue
"An astonishing fragrance that evokes the spirit of Italy - the infinite sky, the deep sea and lighthearted joy. An irresistible fragrance of floral and fruity notes.Experience the intensity of jasmine, the freshness of bamboo and the charm of white rose combined with the true character of cedar wood, amber and musk."
Guerlain l'Heure Bleue
"The breathtaking beauty of Paris at dusk, 'The Blue Hour,' that magical hour of twilight, inspired this fragrance. A heady blend of roses, iris, and jasmine, laced with an intriguing background of vanilla and musk. L'Heure Bleue is intimate, emotional, and utterly refined. Like an armful of sweet, delicate flowers enveloped in a powdery aura."
Ralph Lauren Blue Eau de Toilette
"Cool and fresh, this soft floral melts into the skin with soft notes of lotus flower, gardenia and pink peony, exotic blossoms such as tuberose, rose de mai, and orange flower enriched with musk, ambrette and sandalwood. Notes: Lotus flower, muguet, gardenia, sparkling jasmine accord, pink peony, rose de mai, tuberose, jasmine petals, orange flower, musk, ambrette, sandalwood, mousse de chine, vetiver. Cool. Fresh. Watery."
I know companies have made specific wedding day perfumes, but I love the idea of your something blue being a scent. It would evoke the sweetest memories everytime you would wear it post-wedding!
Anything strike your fancy? What scent are you going to use on your day?